Harness Boxes
Protect Your Silver & Leather And Keep It Show Ready
With A Harness Box From H & S
H & S will custom design your Harness Box to fit your breed of horse and your style of driving. We have the experience to design boxes for draft horses all the way down to mini horses and everything in-between. We will help you design your box from the inside- out. We know how expensive driving equipment is and want you to feel worry free when you store your equipment in one of our custom designed cases. Call us today for a free estimate.
Construction of Harness Boxes Includes
Quality and Custom Designs To Make To Make Your Large Tack Box Your Own
Harness Box
Base Prices
Mini Horse

(single harness)     $1150.00
(double harness)   $1575.00

Standard Size Horse – Smaller Than A Draft Horse

(single harness)     $1650.00
(double harness)   $2275.00

Draft Horse

(single harness)     $2200.00
(double harness)   $3500.00

Prices depend on exterior covering, logos and interior design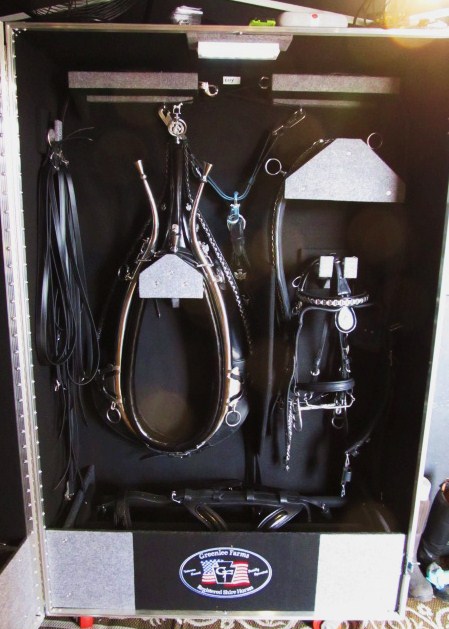 Exterior
constructed of 3/8″ Baltic Birch Plywood
rivets used in construction instead of screws (screws are more likely to loosen over time)
aluminum extrusions
recessed handles and latches (top latch padlocking)
metal ball corners and braces
full piano hinge used between door and shell of box
your choice of exterior covering independent to style of box
"Product Design / Construction" page has detailed descriptions of all exterior coverings.
Interior Door
ozite material, moisture barrier for leather and silver
bridle rack / holds 4 bridles
divider board – bottom of door
Interior
Each interior will be custom designed to fit your individual needs.  We will design the interior of the case and door to your specifications. Your satisfaction is our priority.
***Shipping and Tax (if applicable) are not included in base price***